FinDev Canada has launched a Technical Assistance Facility to work closely with its clients, as well as market-level initiatives, to accelerate inclusive and sustainable economic growth, especially for women. The Facility's goals sit squarely within FinDev Canada's mandate to empower women, mitigate climate change, and develop the emerging markets in which we work.
What we do
At FinDev Canada, we believe that Technical Assistance (TA) is a critical tool which complements our investment activities and enables us to advance our development impact objectives. Our TA Facility was established in 2020 with support from Global Affairs Canada. The main objectives of the Facility are to strengthen private sector entities, making them more proactive and inclusive agents in their respective markets; and to advance market-development initiatives which address broader constraints to inclusive and sustainable economic growth.
We work closely with our clients to deepen their abilities to transform, deliver more value to end customers, and increase their competitive edge. We understand that our clients and other private sector entities operate in complex ecosystems. Therefore, supporting collaborative market-level initiatives which fill knowledge gaps and bring efficiencies to the sector is also important to catalyze broader change.
The Technical Assistance Facility concentrates its activities across three focus areas:
Gender Action: In line with FinDev Canada's main development impact focus, the TA Facility emphasizes projects that advance gender inclusion and diversity practices, driving greater women's economic empowerment. Projects may target inclusive governance, leadership, and workforce, as well as value-chain or product development. We also work on initiatives that contribute to growing the gender lens investment movement.
Impactful Data: We support clients in establishing systems and capabilities for the strategic collection and analysis of data to be more efficient or to develop a competitive advantage. In addition, we support market-level initiatives that advance data-driven impact investment practices such as models for consistent impact measurement, training toolkits, etc.
Business Performance: More generally, we work to strengthen select business functions within companies to enable them to align with global best practices. This can include improvements to environmental and social risk management systems, human resources management, digital capabilities, etc.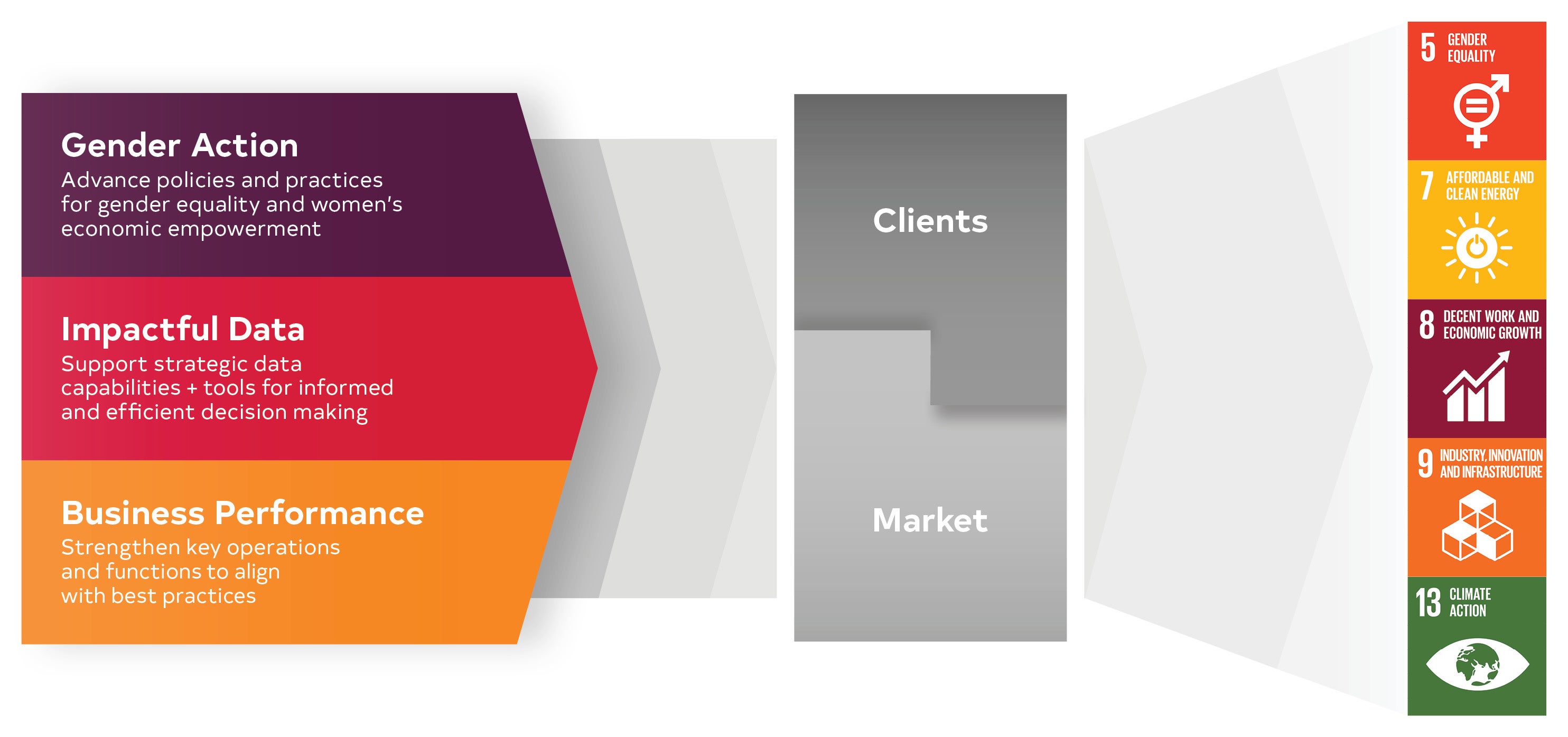 How we work
At the Facility, we adhere to the following guiding principles throughout project design and implementation: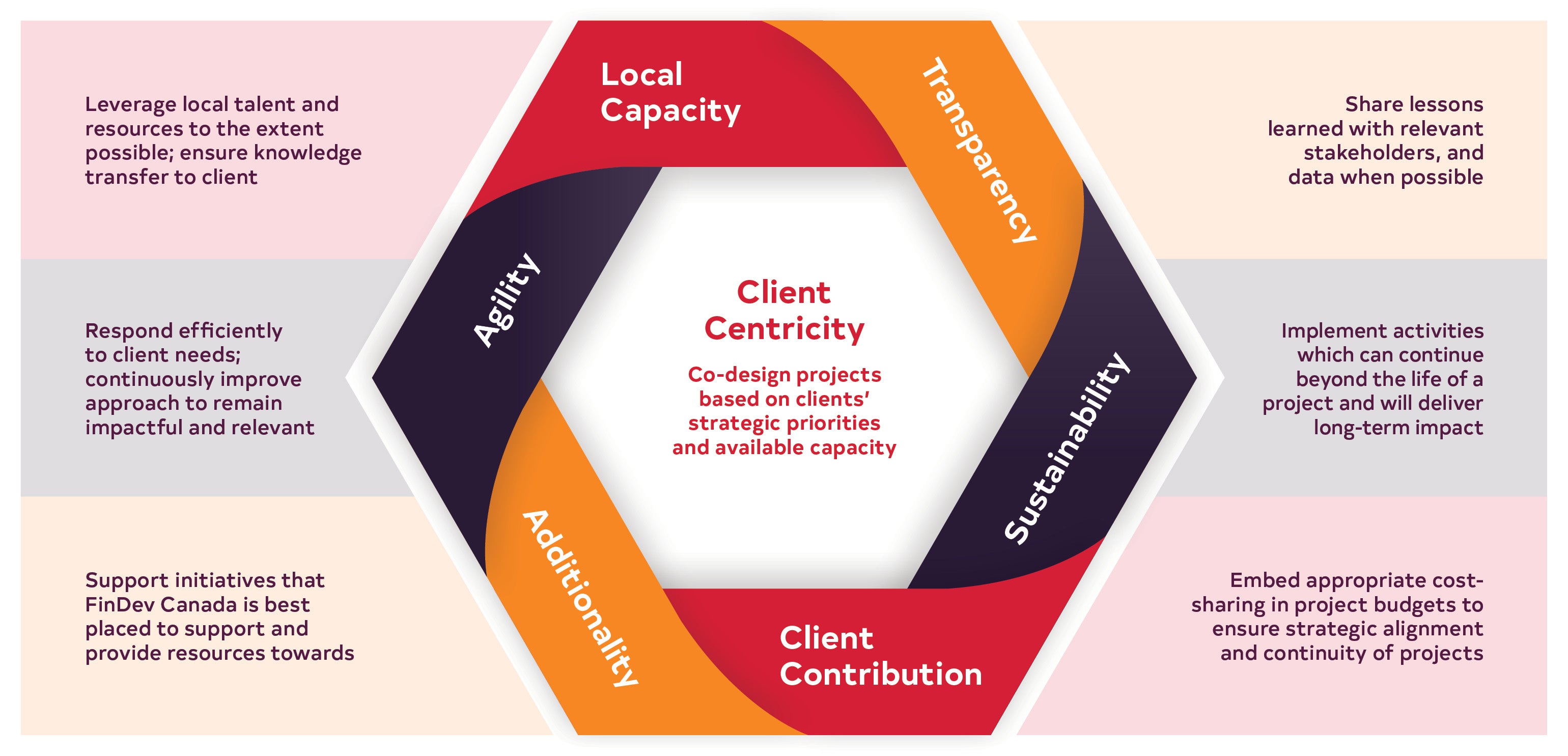 Funder Information
The TA Facility is funded by Global Affairs Canada for a period of three years, 2020 - 2023. GAC's partnership and funding has been critical for establishing the Facility. It is enabling us to implement a significant number of projects through which we can demonstrate the value of TA and expand FinDev Canada's ability to collaborate more holistically with investees and market-level stakeholders. The partnership with GAC also enables FinDev Canada to contribute to Canada's Feminist International Assistance Policy (FIAP).
What is Technical Assistance?
Technical Assistance is targeted grant support to private sector clients that, directly or indirectly, improves their development outcomes. TA at the market level addresses gaps in knowledge or tools and seeks to support the business environments in the countries, regions, or sectors in which we operate.
The Global Impact Investing Network (GIIN) defines TA as:
Capacity-building is a versatile, widely applicable tool that offers direct benefits to both investors and investees. It addresses a range of needs, including human resources development; impact targeting, measurement, and reporting; and technical and/or specialized support. When applied well, it improves investor competitiveness, enhances business performance of investees, expands impact for beneficiaries, and strengthens markets and sectors.

— GIIN, Beyond Investment: The Power of Capacity Building Support, 2017
What are some examples of a TA project?
Enhancing women's economic empowerment, a development impact priority for FinDev Canada, might include supporting a client to conduct a gender assessment of its operations, then developing an appropriate strategy and action plan for improvement. In another area, we might suggest the services of experts to put in place policies and practices that better identify, manage, and mitigate environmental or social risk in a client's operations. 
Elsewhere, we might develop training toolkits or workshops to improve knowledge on gender lens investing or contribute to industry-wide initiatives to improve impact data reporting. In all circumstances, our Technical Assistance work is developed collaboratively with clients and partners to ensure their buy-in and commitment to achieving measurable improvement goals and long-term impact.
For examples of current TA projects, please see the Portfolio section above.
How does FinDev Canada originate TA projects?
Client-facing TA projects are initially identified through discussions with clients to see if TA can support impact or business targets. When a potential project is identified, the TA Facility staff will invite the client to submit a proposal. Market development TA projects can be developed by FinDev Canada alone or in partnership with other DFIs or actors in the impact investing space.
How does FinDev Canada decide whether to undertake a TA project?
Any engagement on Technical Assistance must follow these criteria:
Projects must occur in FinDev Canada's priority investment areas. This means projects in the private sector located in Sub-Saharan Africa, Latin America, or the Caribbean that drive green growth, strengthen the agribusiness value chain, or involve the financial services industry and its support to small and medium-sized enterprises. 
Projects must fall under at least one of the Technical Assistance Facility's three focus areas of gender action, impactful data, and business performance.
Projects must adhere to the guiding principles.
Individual TA project proposals will also be assessed based on client readiness, the potential to achieve development objectives, and the potential to learn lessons and share knowledge. Other TA projects, designed to enhance the development of markets will be prioritized based on alignment with FinDev Canada's development impact priorities and opportunities for collaboration. For the latter, we are keen to learn about potential sectoral or industry opportunities.
For client-facing TA projects, does FinDev Canada engage with clients before or after closing of the deal?
While the potential scope of TA projects may be discussed in the very advanced stages of transaction discussion and prior to closing of the deal, in most cases, projects are expected to be finalized post-closing and project activities commence at that stage.
How is the TA Facility governed and managed?
The TA Facility sits within the Impact Enablement team at FinDev Canada. The Facility has two advisory committees that offer strategic guidance. The Steering Committee, comprised of FinDev Canada leadership and a representative of Global Affairs Canada, oversees annual work plans, budgets, and progress of the Facility. The Technical Assistance Committee, comprised of FinDev Canada leadership and two external experts, meets monthly to approve projects and advise on strategic direction and opportunities for the Facility.
How can service providers or consultants specializing in one or more of FinDev Canada's Technical Assistance priority areas work with the TA Facility?
FinDev Canada supports the use of local and regional service providers to carry out TA assignments, to the extent possible. If you are a service provider and would like to tell us more about your areas of work, please send us a brief email with the following information. We will keep this information for reference purposes. Please note that having your information does not constitute a guarantee of work.
Area(s) of specialization

Gender equality (gender action plans, gender & diversity policies, training, etc.)
Impactful data (data systems, collection and analysis)
Environment and social issues (E&S risk management, policies, training, occupational health and safety, etc.)
Business performance (market research & analysis, product/service development, supply chain management, etc.)
Climate mitigation and/or adaptation
Other (please describe)

Industries/sectors of specialization 

Agribusiness or forestry
Financial services (across a range of institutions)
Green growth
Other (please describe)

Countries or regions of focus and presence
Language capabilities for project implementation
Contact person, email
 
What is the best way to contact FinDev Canada's Technical Assistance Facility?
If you are a current client, please speak with your Investment Officer about your interest in Technical Assistance support. If you are not currently a client of FinDev Canada, for any queries or suggestions about the TA Facility, please send an e/mail to: info@findevcanada.ca