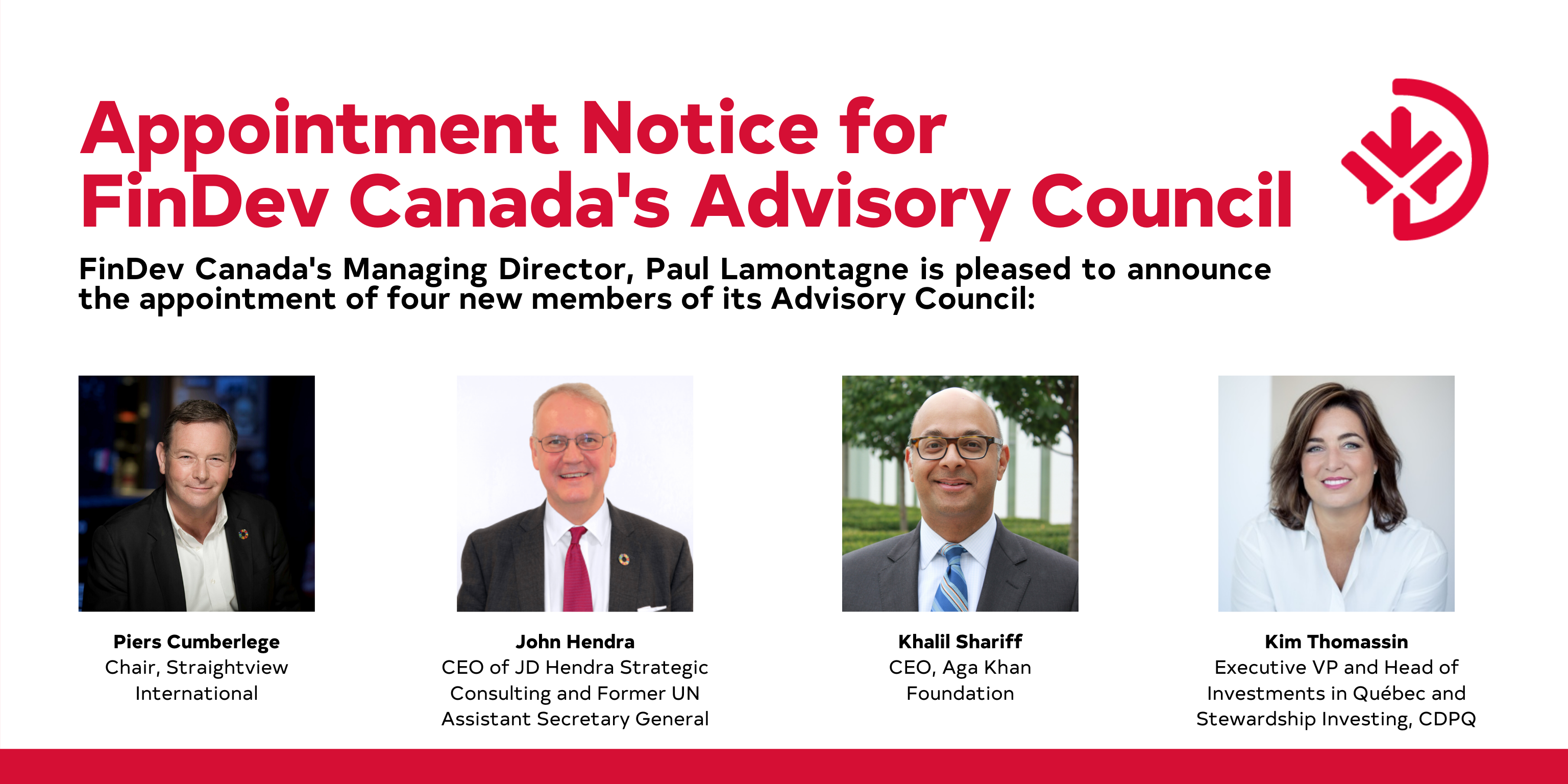 (Montreal) – May 21st, 2020 FinDev Canada is pleased to announce the second round of appointments to its Advisory Council. The Council guides and advises the institution as it works to identify opportunities to use financial solutions to positively impact global poverty.
The Council Members were chosen in consultation with Canada's Ministers of International Trade and International Development and are recognized as leaders in international development and development finance through the private sector. 
FinDev Canada's new Advisory Council members are:
Piers Cumberlege, Chair of Straightview International
John Hendra, President JD Hendra Strategic Consulting and Former UN Assistant Secretary-General
Khalil Shariff, CEO of Aga Khan Foundation Canada
Kim Thomassin, Executive Vice President and Head of Investments in Quebec and Stewardship Investing, Caisse de dépôt et placement du Québec (CDPQ).
The Council guides and advises FinDev Canada in areas such as priority sectors and regions of activity, opportunities for innovative approaches to development finance, monitoring and evaluation, transparency, and in achieving its development impact goals.
"We are excited to add to this group of talented, passionate and experienced individuals who are experts in the areas of sustainable economic development, impact investing and women's economic empowerment and others", said Paul Lamontagne, Managing Director of FinDev Canada. "Their counsel and guidance will help us create meaningful impact and grow sustainably as an institution ".
Members are selected from civil society, industry and business, academic and research institutions, and other sectors of interest.
About our new Advisory Council Members:
New members
 
Piers Cumberlege, Chair of Straightview International
Piers Cumberlege has had an international career working in and with multi-national corporations, private equity, governments and civil society organisations across Asia, Europe, Africa and North America.  Currently Head of UK for professional services firm, All You Need for Growth and Director of global sustainability consultancy, South Pole Group. Former Head of Partnership at the World Economic Forum.  Piers is also working with the UN SDG Lab' Pipeline Builder project, currently focusing on structuring emergency public-private sector liquidity facilities for SDG investment portfolios impacted by the COVID-19 pandemic.
Piers has significant experience in sustainable economic development. He was Head of Direct Investments at Moscow-based Delta Capital, managing a large multi-sector portfolio.  More recently, he co-managed the Canada Investment Fund for Africa. In 2009, he established a social venture fund for small- and medium-size enterprises in West Africa.
As indicated by his numerous appointments, Piers has a strong personal engagement in civil society: former Director of CARE Canada, Chair of CARE Enterprise Partners; currently Investment Committee Member of Engineers Without Borders Canada; and advises and participates in Crossroads Foundation's A Day in the Life of a Refugee simulation.  In 2012 he received the Queen Elizabeth II Diamond Jubilee Medal for services to development.
John Hendra, President JD Hendra Strategic Consulting and Former UN Assistant Secretary-General
John Hendra recently established his own consulting practice after retiring from a dynamic 32-year United Nations career as a development leader and reformer. His most recent position was as UN Assistant Secretary-General (ASG) helping the UN become more "fit for purpose" to support the implementation of the Sustainable Development Goals (SDGs) through a comprehensive reform of the UN development system.
Before that, he served as UN ASG and Deputy Executive Director at UN Women (2011-14) and as UN Resident Coordinator and UNDP Resident Representative in Vietnam (2006-2011), Tanzania and Latvia.  John currently serves on the board of Women Deliver Canada and was a member of the High-Level Group to review the governance of The Commonwealth. He has published articles on various development issues including SDG financing, a "theory of change" for making the UN development system fit to support the 2030 agenda and the role of men and boys in achieving gender equality.
John was a Yale World Fellow (2009) and was awarded the Three Star Order of Latvia (1997) and Vietnam's Friendship Order (2011) in recognition of his contributions in those countries. John holds a Master of Arts in Development Studies from the University of Toronto and an Honours Bachelor of Arts from Queen's University.
Khalil Shariff, CEO of Aga Khan Foundation
Khalil Shariff joined Aga Khan Foundation Canada (AKFC) as Chief Executive Officer in August 2005. He was previously with the Toronto office of McKinsey & Company, an international management consultancy, where he advised governments, financial institutions, and health care providers on strategy, organization, and operational improvement.
Khalil served on AKFC's National Committee for five years, and has cultivated his interest in international development and conflict resolution issues through a variety of activities including as: Deputy Editor-in-Chief, Harvard Negotiation Law Review; Policy Co-ordinator and Research Associate, Harvard Program on Humanitarian Policy and Conflict Research; Legal Intern, Chambers of the Vice-President, International Criminal Tribunal for Rwanda in Arusha, Tanzania; Intern, Office of Under-Secretary-General, UN Department of Peacekeeping Operations.  He was the youngest member ever elected as a School Trustee in 1993 for the Board of School Trustees in Richmond, British Columbia, Canada. 
Kim Thomassin, Executive Vice President and Head of Investments in Quebec and Stewardship Investing, Caisse de dépôt et placement du Québec (CDPQ)
Kim Thomassin has been Executive Vice-President and Head of Investments in Québec and Stewardship Investing since April 2020. She leads the teams responsible for private equity in Québec, post-investment management and Espace CDPQ. Ms. Thomassin also oversee the Stewardship Investing team, whose mandate is to deploy CDPQ's investment strategy to address climate change. She is a member of the Executive Committee and the Investment-Risk Committee, and sits on the Board of Ivanhoé Cambridge, CDPQ's global real estate subsidiary.
Prior to her current position, Ms. Thomassin held the role of Executive Vice-President, Legal Affairs and Secretariat, Compliance and Stewardship Investing. Before joining CDPQ in 2017, Ms. Thomassin was National Client Leader and Managing Partner for the Québec Region at McCarthy Tétrault. As a member of the Leadership Team, she contributed to the firm's regional and national management while strengthening its national presence. In her 17 years at the firm, she held various important positions and specialized in project finance and acquisition transactions in the energy and infrastructure sectors. She has been involved in several transactions related to large-scale Canadian and international projects. She has also represented public institutions and developers in connection with public-private partnerships.
Ms. Thomassin received a B.C.L./LL. B. from Université Laval and a minor in psychology at McGill University. She also studied at the University of Western Ontario's Faculty of Law. Ms. Thomassin is a member of the Québec Bar.
Existing members
Margaret Biggs, Chair - International Development Research Centre
Margaret Biggs previously served as President of the Canadian International Development Agency (CIDA) from 2008 to 2013, and as Deputy Secretary to the Cabinet and Assistant Secretary, Priorities, and Planning, in the Privy Council Office (Government of Canada) from 2002 to 2008.
She has represented Canada in numerous international fora and has served as Canada's Alternate Governor to the World Bank, as International Executive Co-Chair of the China Council on International Cooperation on Environment and Development. She is an active contributor on issues related to Canada and global sustainable development and author of "Inclusive Trade, Inclusive Development: Opportunities for Canadian Leadership (Institute for Research on Public Policy, Redesigning Canadian Trade Policies for New Global Realities, 2017).
Ms. Biggs is the current Matthews Fellow on Global Public Policy at Queen's University; Chair of the International Advisory Committee of UN University's Institute on Water, Environment and Health; and she sits on the Board of World University Services Canada.
Debby Carreau, CEO of Inspired HR
Debby Carreau is an entrepreneur, author and Founder and CEO of both Inspired HR and Inspired WorkplaceTM. She is widely recognized in the media and the business community as a workplace thought leader.
Debby has been recognized as one of Canada's Most Powerful Women on several occasions, marking her entry into Canada's Top 100 Hall of Fame as their youngest inductee. Her book, The Mentor Myth, is a staple for professionals who are new to the work force.
Ms. Carreau is a proven leader in helping businesses to create great workplaces. Debby is a board member of Young Presidents Organization (BC Chapter), Elevation Group and a member of the Board of Governors of Collingwood School. She was previously an Advisory Board member for Women's Executive Network, Respect in the Workplace and is the Chair for 1000 Women Rising.
Her firm has been recognized as Canada's Top HR Consultancy and listed as one of Canada's Top 25 HR Professionals.
Joan Larrea, CEO of Convergence
As CEO of Convergence, Joan leads the world's first institution dedicated to increasing private sector investment in emerging markets by helping investors execute blended finance deals. Joan is an expert in catalyzing investment in places that need it most and brings with her over 20 years of experience in emerging markets investing.
Prior to joining Convergence, she served as U.S. Overseas Private Investment Corporation's Managing Director for Business Development and Partnerships, leading efforts to partner with philanthropic and private investors to increase capital flows to OPIC's target markets.
Before OPIC, Joan served as a managing director on the emerging markets team at Global Environment Fund, a privately held asset manager with $1 billion in assets under management, dedicated to the energy, environmental, and natural resource sectors.
She began her career as an investment officer at the International Finance Corporation, where she concluded pioneering transactions in diverse infrastructure and manufacturing sectors across Asia.
Boris Martin, CEO of Engineers Without Borders Canada
Mr. Martin joined Engineers Without Borders (EWB) Canada's Toronto-based executive team as Vice President of Strategy and Investment in 2011. There he led an organisational transformation process to enable EWB to adopt a social venture investments approach in Sub-Saharan Africa.  He has served as CEO to EWB Canada since 2014.
Mr. Martin brings expertise in agriculture and small and growing business development from his own experience as an EWB Fellow in West Africa, and through EWB's current portfolio of seed stage ventures and talent development programming.
He holds a PhD in engineering and a Graduate Diploma in Social Innovation.
About FinDev Canada
The Development Finance Institute Canada Inc., operating under the FinDev Canada brand, is a Canadian institution dedicated to providing financial services to the private sector in developing countries with the aim of combating poverty through economic growth by focusing on three main themes: economic development through job creation, women economic empowerment, and climate change mitigation. The Development Finance Institute Canada Inc. is a wholly-owned subsidiary of Export Development Canada (EDC). Find out more about FinDev Canada here.