FinDev Canada proudly joined the GIIN – the Global Impact Investing network – recently, and Angel Bohorquez and I were excited to attend our first GIIN Forum last week.
Impact investing is poised to – and must - move beyond a niche segment.
With unprecedented attendance of more than 1,200 participants from 80 countries, the energy in the audience, on stage, and in the halls communicated a clear message: Impact investing is poised to – and must - move beyond a niche segment.
GIIN CEO and co-founder Amit Bouri kicked off the forum by giving an overview of their Roadmap for the Future of Impact investing - a shared plan prioritizing the actions required to transform the financial system into one where all investment decisions incorporate social and environmental factors.
Key actions are grouped in 6 categories, as illustrated below: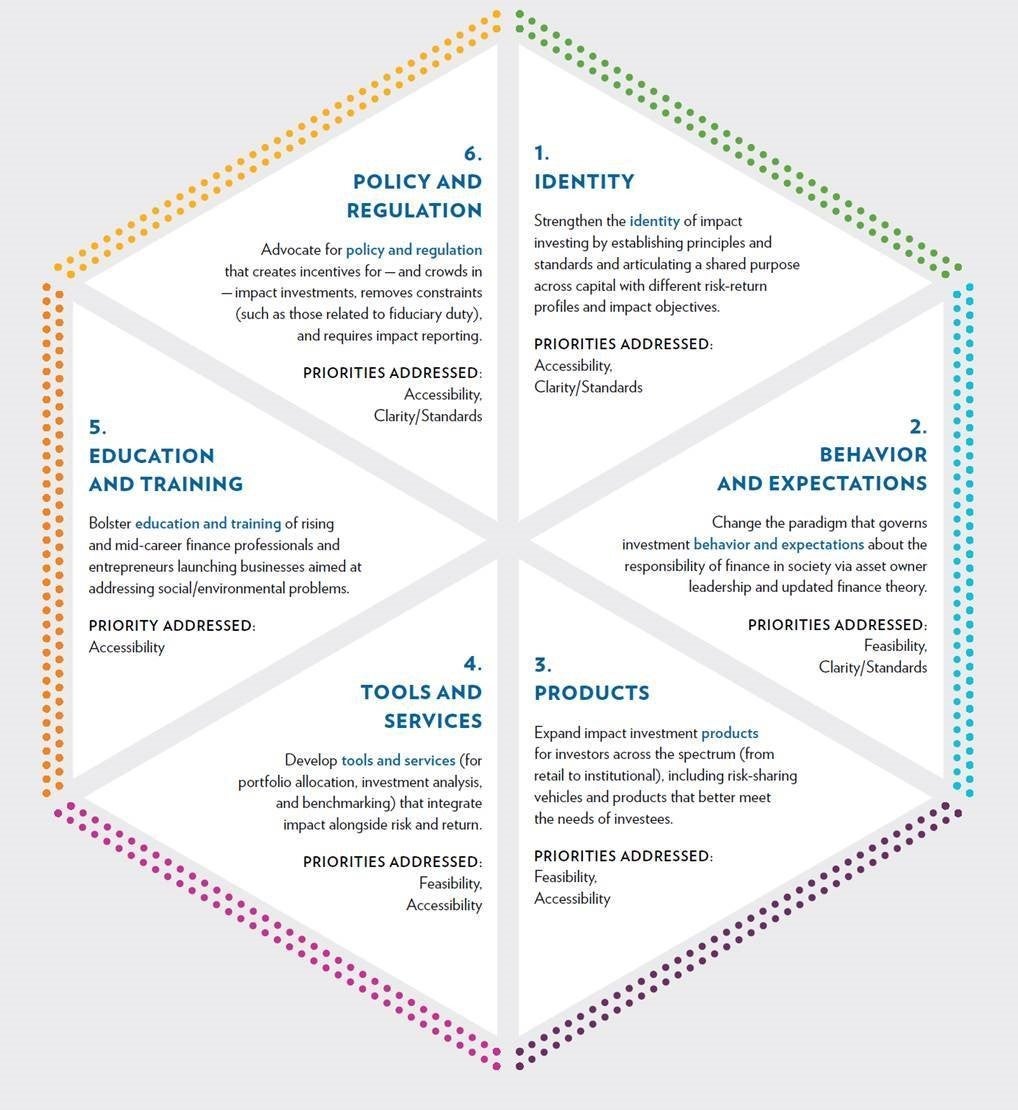 Put simply, it sets the critical actions required to:
Bring in more private capital to the space;
Safeguard the integrity of impact investing; and
Fuel a global movement, where impact investing becomes the new normal.
This represents great opportunity, and great responsibility, which we all hold, as asset owners, managers, policy makers, consumers, citizens.
We need to make positive impact investing the new normal
Here are some takeaways from the Forum:
There is no such thing as a neutral investment; all investments have impact – a positive or a negative one. We need to make positive impact investing the new normal so that it's not just a niche in our portfolio, while the rest of it might produce devastating things.
We need concrete action to catalyze private capital: We need to listen to private investors, institutional investors, and co-create products and projects that will enable them to come in, safekeeping their fiduciary duties, while aligning them with our values. Institutional investors are investing our money – we need to socialize, educate and make it easy for all to make informed investment decisions that are aligned with our principles.
Governments have a critical role to play to set the right regulations and incentives, so that we can move from a short-term outlook to a long-term view. Embedding ESG in fiduciary duty is a critical step – France and England have taken steps in the right direction.
The business case for gender equality is clear – we have evidence that more gender diversity – particularly in management teams - yields better result (check Calvert Impact Capital's report on this!). Now we need more practical tools to guide investors looking to invest with a gender lens.
New technologies like Blockchain for Impact hold great promise to make validation of information like CO2 emission certificate more efficient.
With the SDGs, the Paris Agreement and the Addis Ababa Action Agenda, we have the map to build and finance the world we want to live in.
We have never had so much money, we have never had so much technology.
It's now up to us to transform the financial system into one that we can be proud of.
So…. have you looked at the impact of your portfolio lately?